We are seeking Consultants to work from home on a Part-time or Full-time basis and take advantage of our Compensation and Rewards Plan. We will Train You!
To become a Consultant you can start either with
1 Business Center (BC) for only $200
or 3 Business Centers for $600 (earn more for the same effort)
to be commission qualified. Each Business center has the maximum income potential to earn you $1000/week or $52,000/year. Thus, purchasing 3 business centers has an income potential of $3000/week or $156,000/year. Furthermore, your income potential is not limited to this. It can increase and is unlimited as each Business Center you purchase comes with 2 additional re-entry Business Centers that are earned when you max out a business center with 5000 PV Left and 5000 PV Right in a given week. These re-entries can placed anywhere in your downline and you can start building on the right and left side each re-entry. All re-entries, themselves, come with 2 more re-entries, thus making your income potential unlimited. It is possible for a consultant to earn more money than they earn at their job and beyond!
Thereafter an annual renewal membership of $100 for 1 Business Center or $200 for multiple Business Centers that you personally own. We will provide you with a website and back office to track your orders and build your team and business!
We offer Leadership Bonuses, the company takes 3% of all the commissionable volume for the week and distributes shares to qualified Consultants that max out 7 Business Centers or more they personally own in a given week. See Commission pay chart below for number of shares that you can earn.
Note: GSV = group sales volume; which is also known as PV product volume.
PV = Product Volume
CARRY OVER volume:
Whenever there is product volume under any of your Business Centers that has not been paid out to you in commission for the week, up to 5000 PV on either side of each of your business centers will carry over to the following week. This is like money in the bank, just waiting for you to balance on other side to get paid.
Re-entry Business Center
Re-entry Business Center is earned when one of your existing Business Centers has achieved 5000 PV Left and 5000 PV Right in a given week. Each Business Center that you own comes with two potential re-entries. Furthermore, each re-entry, themselves, come with 2 more re-entries, thus giving you unlimited re-entries and income potential. These re-entries will create excitement and team synergy in your downline as it is possible that may see an Upline leader in their downline.
Weekly Commission pay scale for each Business Center you own: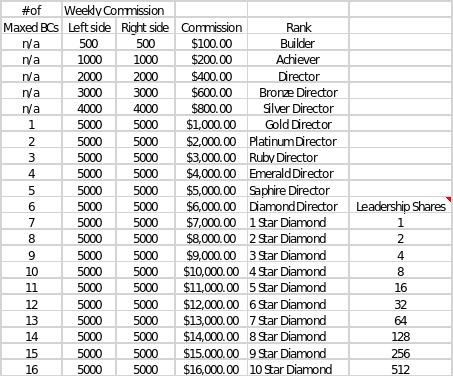 A re-entry is earned when you max out 5000 PV Left and 5000 PV Right in a given week. Up to two re-entries per Business Center Leadership Bonus- 3 % of all commissionable in the entire company is paid out to qualified leaders under the leadership shares.